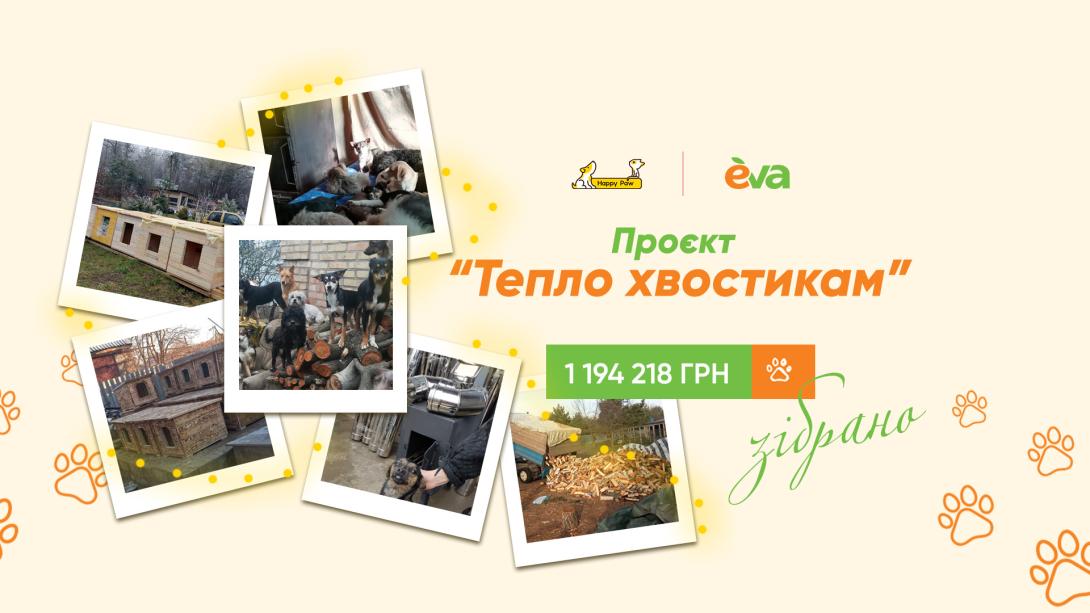 The EVA and the Happy Paw animal rescue fund have created anti-stress stuffed animals to help animals in shelters. Because four-legged friends are always ready to melt our hearts, even when they are virtual!
By playing with animals online on the website of the "Warm for tails" initiative, you are helping to give warmth to real tails from shelters. Throw a ball, stroke an ear or play with a mouse - each of these actions will help very real cats and dogs from shelters all over Ukraine.
The goal of the "Warm to Tails" initiative is to collect 400,000 hryvnias for new booths and firewood for cooking and heating shelters. To support the furry ones, you need:
1) Go to the link https://teploeva.happypaw.ua/
2) Choose the desired activity with a cat or dog and make a donation
3) You can also join the collection by transferring funds (from UAH 1) at the cash desk in any EVA store.
Fundraising as part of the "Warm Tails" initiative will last from December 7, 2022 to January 7, 2023. At least 1,500 animals from 8 shelters will receive help:
Shelter "Lisovy" (110 dogs, 60 cats), Bogorodchansky district, Ivano-Frankivsk region
"Save Life" shelter (115 dogs), Khmelnytskyi
"We have the right" shelter (40 dogs, 40 cats), Lozova, Kharkiv region
"Window to Life" shelter (63 dogs, 42 cats), Dnipro
Shelter "Dim Sirka Kalush" (350 dogs), Kalush, Ivano-Frankivsk region
Shelter "Give a paw, friend" (450 dogs, 70 cats), Zaporizhzhia
Shelter "Best Friend" (30 dogs, 40 cats), Kryvyi Rih
Shelter "Friend" (500 dogs, 200 cats), Dnipro
If the amount of fees exceeds the set goal, the list of shelters and/or the amount of assistance will be increased, so every hryvnia transferred can give warmth to a furrier who needs it very much.
Play with animals online, and Happy Paw and EVA will make sure to give your warmth to real pooches from shelters!
EVA and Happy Paw support animal shelters for the second year in a row on the eve of New Year's holidays, and this year everyone will be able to join the initiative in a convenient way, because its goal is big and ambitious.